By Synchroze @ October 31, 2013 at 12:06pm

There's a new Halloween event going on right now! Get in game and start taking part in the festivities to earn some great rewards.
Event Start Date: Wednesday October 31, 2013
Event End Date: Friday November 29, 2013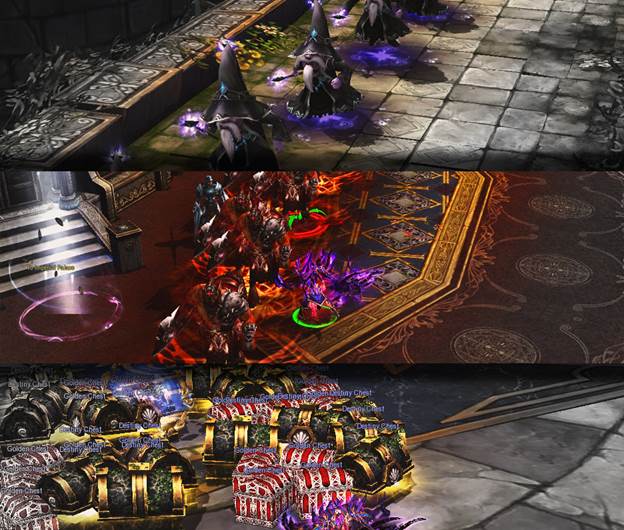 Every day on Realm 2 at 20:00, monster portals will open at Hero's Plaza in Atlantis.
A total of 15 waves of monsters will pour forth from the portals and march towards the Imperial Palace.
Players must kill the monsters before they reach the Imperial Palace. Each monster that reaches the Imperial Palace will reduce its defense by 1. The event fails if defense falls to 0!
Boss monsters will appear every few waves. A large bounty of Gold Chests and Destiny Chests will drop when they are defeated.
Gold Chests and Destiny Chests contain a variety of valuable items, including but limited to Pets and Mounts.
Everyone wins if the Imperial Palace still stands when the last wave of monsters are defeated!


Get ready for bone-shattering, adrenaline inducing, brain hemorrhaging double experience and double drops the entire weekend! Get ready to hunker down, power level, and gear up your heroes all weekend.
Event Start Date: Thursday, October 31, 2013 3:00PM PDT
Event End Date: Monday November 4, 2013 10:00AM PST
Need a reason to play this weekend? How does Double EXP and Double Drops for the ENTIRE weekend sound?! Get the most out of your game play and earn more experience and loot during this limited time event. Gather your friends in the game, help them power level their way through the trenches of the battlefield, and gear up for the bigger battles ahead! This is one weekend you won't want to miss out on so power up and play today!