By Pinpointerror @ November 18, 2013 at 10:09am

Sword Coast Adventures – Dev Blog by Rob Overmeyer, Executive Producer
Have you ever wondered what your idle companions are up to while you're saving the good people of Neverwinter? With the new Gateway game that's now live, Sword Coast Adventures, you'll be able to find out!
Sword Coast Adventures is a press-your-luck, dice-matching game in which players send a party of 4 companions into a series of random, mysterious locations to earn rewards and gain companion experience.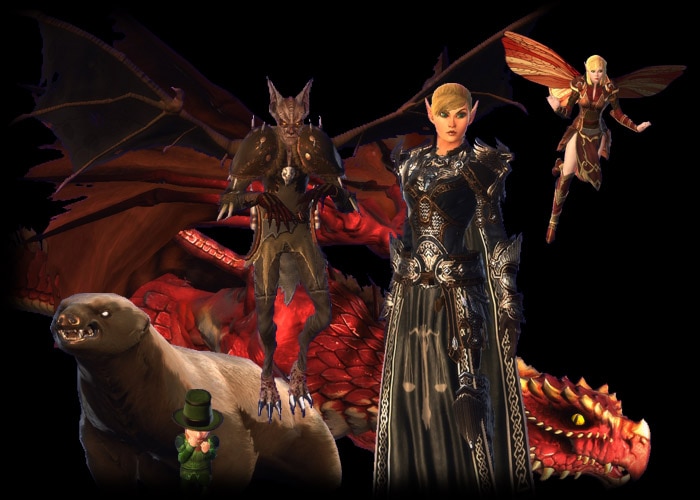 Getting Started
The Sword Coast is teeming with monsters and treasure, and in order to claim their rewards, you must survive the experience by sending out your best and bravest companions. Across the map, you will see locations that can be explored. Each of these locations contains an adventure of a different difficulty, or tier, and should be explored by appropriately-ranked companions.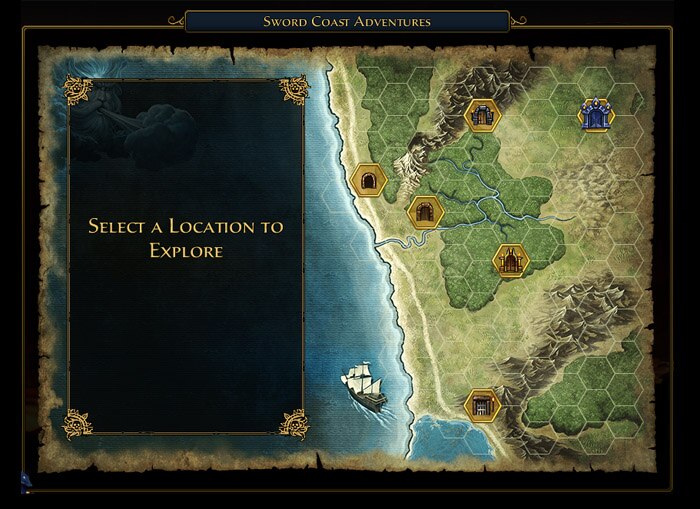 Once you've chosen your location, you then select which 4 companions will be sent out. If you do not own 4 companions, temporary ones can be recruited from a special tavern within Sword Coast Adventures.
With the release of Sword Coast Adventures, each companion will be given a special set of dice specifically for use within this game. Every companion owns the same set of basic, 6-sided dice, as well as up to 4 power dice that range in size from 4-sided to 12-sided, with the 12-sided being the most powerful.
As companions rank up, their power dice will grow in size as well as quantity. By checking the tooltips on your companions, you can see their strengths and weaknesses. And though different, each color of special die is equally powerful, so it's up to you how you configure your party.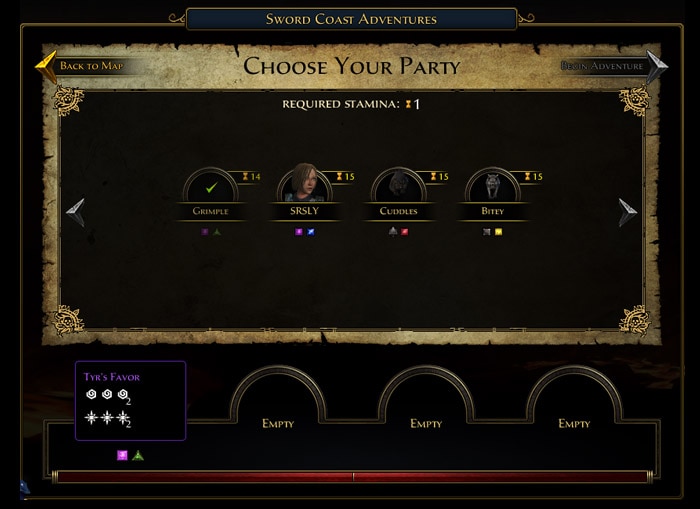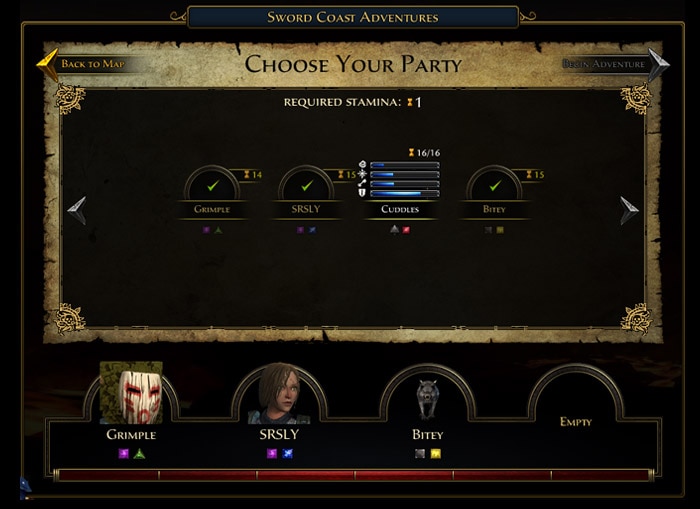 Remember those different tiers of adventures? Keeping that in mind, be careful of whom you choose to send where; if you send lower-rank companions into higher-rank adventures, you may find the challenge difficult – if not impossible.
With your party chosen, it's time to begin the journey!
On an Adventure!
You've got your party, you're inside your dungeon, cave, forest, etc., and you're ready to go. So now what? The task is simple; complete challenges to collect as much treasure and experience as you can until one of these things happens:
You find and complete the goal of the adventure, keeping everything you've earned along the way, including special rewards from the final challenge
You decide that you won't survive all the way to the final challenge and leave the adventure with whatever you've collected so far
You are defeated, keeping only the experience points you've earned along the way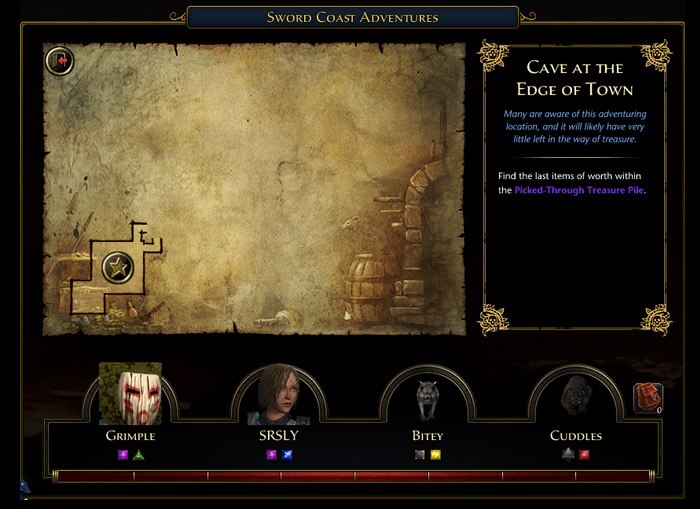 Completing a Challenge
Challenges are comprised of symbols that must be matched to be completed. Some challenges have all of the symbols together in a single trial; some must be completed one at a time.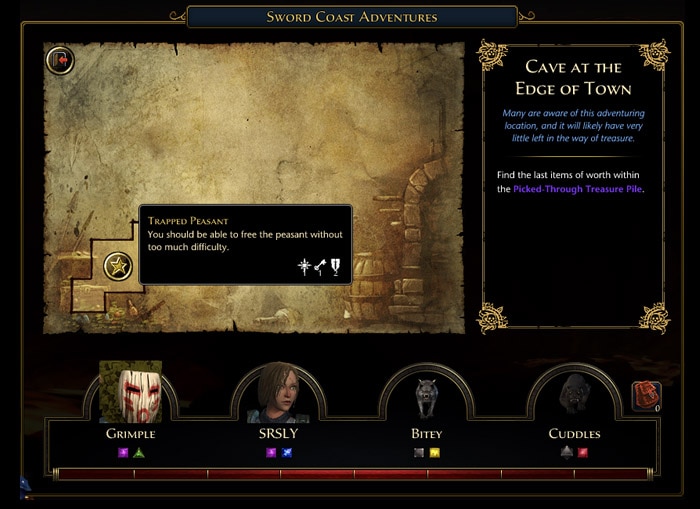 When choosing a challenge, you can mouse-over the location to see what's in store.
You can also check out the power dice shown under each companion to see what they're good at.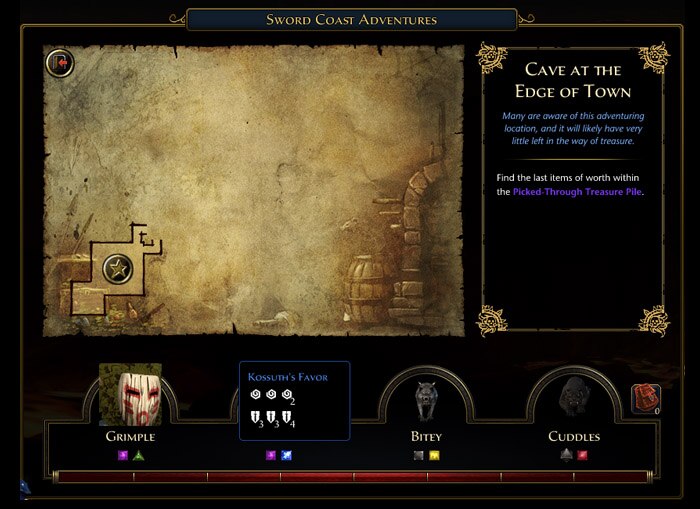 Now you have to choose a companion to attempt the challenge. By choosing the best companion for the job, you increase your chance for success.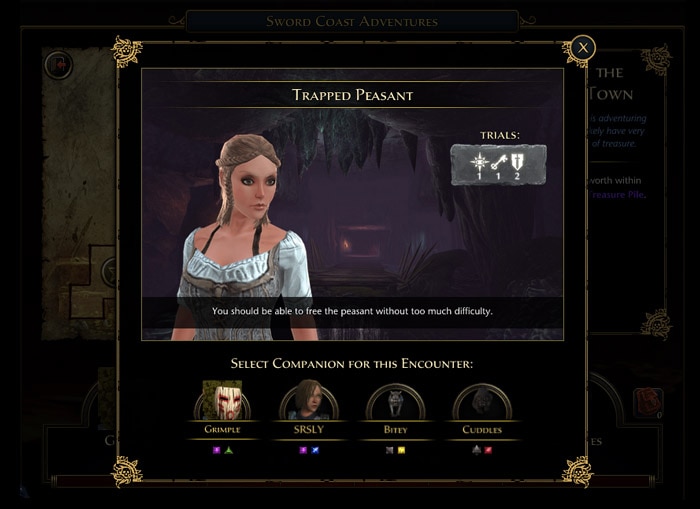 Companion chosen, it's time to roll some dice!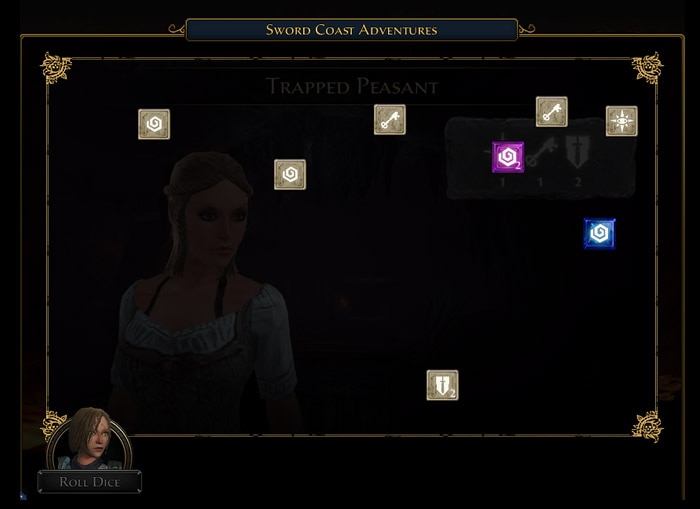 When the dice are done rolling, you'll see the resulting symbols in your dice tray. If you can match a symbol, you must do so. If you cannot, you must choose a die to get rid of. Once you've spent at least 1 die, either via matching or discarding, you can either keep selecting matching symbols (if possible) or choose to roll again with your remaining, unspent dice. And don't worry, all dice are returned at the end of the challenge, win or lose.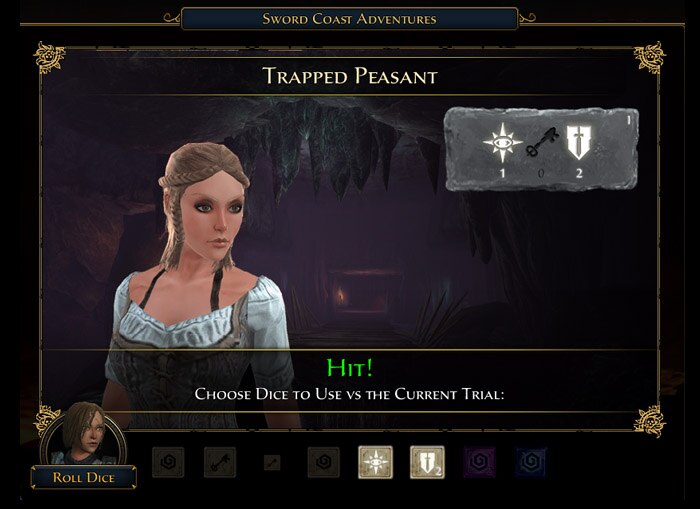 If you match all of the symbols before running out of dice, you win! The participating companion gets XP, and if any treasure is found, it goes into your pack to be collected later.
If you fail the challenge, some party health will be lost and the challenge will need to be attempted again.
As long as the party still has some health left, you can either keep attempting challenges, or you can choose to leave the adventure with what you have in your pack.
As you complete challenges, new ones will unlock and the map will be revealed. As soon as you find and complete the final challenge, your party will be sent back to town with all of the riches collected. So if there were any challenges you were skipping along the way, be sure to do those before completing the final challenge.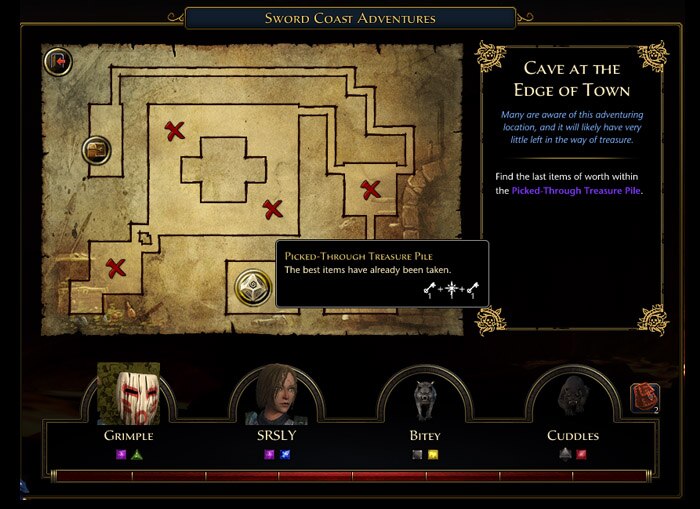 Adventures are always changing, and from time to time there will even be special event adventures offering special rewards, so be sure to play every day!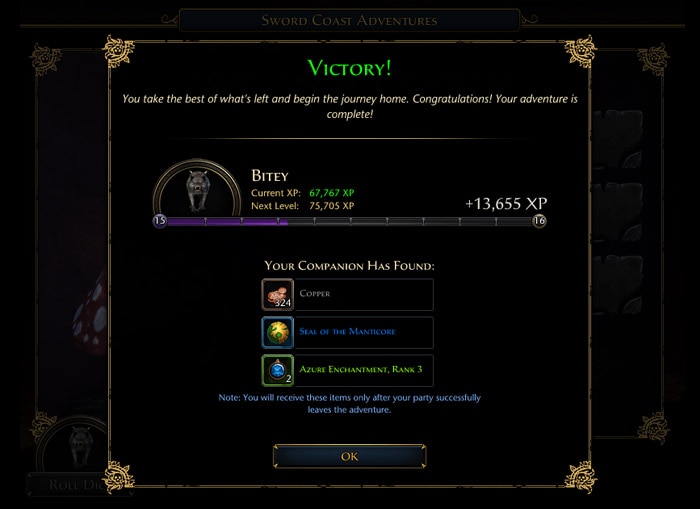 Thanks for reading and we look forward to seeing you on the Sword Coast!
Click here to register for Neverwinter, the Dungeons & Dragons action MMORPG. The best part about Neverwinter: it's free to play! Become a Knight of the Feywild or Hero of the North today with a Feywild Pack or Neverwinter Pack purchase!
Want more game details, screens, and videos? Like Neverwinter on Facebook for more fan-exclusive content and follow us on Twitter – tweet us your questions! And, subscribe to our YouTube channel for the latest Neverwinter videos.