By Pinpointerror @ October 22, 2012 at 9:13pm

The world of Rendel just became spookier just in time for the RaiderZ Open Beta launch and Halloween. The monsters of RaiderZ are holding onto various types of candy including Halloween Candy and Festival Pumpkin and it's up to you to slay them and loot them for goodies! Head to Ingen and look for these suspicious NPCs (Pumpkin Fairy and Franky) to get started.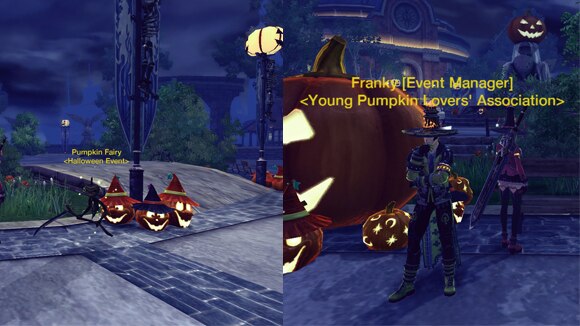 What kind of goodies can you get? You can get special items like the Witch Feast, the special Broomstick mount, toy items like the Skeleton's Bow Toy, and the magical Pumpkin Fairy Transformation Crystal to haunt (and scare!) your friends in game. You can also go trick-or-treating along with friends by wearing the special Halloween Event outfits – be sure to trick anyone who doesn't give you candy!
Want to own your very own Halloween costume to keep after the event? Be sure to head to our new Cash Shop and purchase a "Halloween Costume Box." Access the Cash Shop by pressing Escape (Esc) and select Cash Shop. Then, select the Halloween Costume Box, Buy, Receive, then open the box in your inventory. The costumes are yours to keep, permanent, and will not expire. Haunt players in game anytime you want!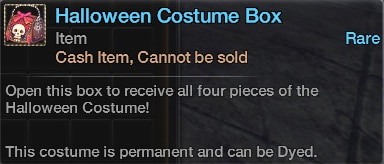 Haunt players in game with your very own Halloween costume
Enjoy these events as RaiderZ launches into Open Beta. The event will end on November 20, 2012, when we have our scheduled maintenance! We'll see (and scare you) in game! Happy Hunting.
Discuss the Halloween event on our forums here.
Get more fan-exclusive content by liking our Facebook Page, follow and tweet us on Twitter, and subscribe to our YouTube channel for the newest RaiderZ videos.