By TrailTurtle @ July 2, 2013 at 6:00pm

We may be in the heat of summer, but with discounts on Puppet Protectors and Telepathy Gems, you can chill out with PvP and social events.
Whether you're fighting against monsters or other players, you're always flirting with disaster – and after level 90, death hits hard. Players over Level 90 will lose some of the EXP needed to level, and if you've got any Infamy from PKing, you may drop items.
With Puppet Protectors, though, you can dodge all of these penalties, but only once. On dying, one Puppet Protect will be consumed, and you can respawn without losing EXP.

Customize your esper's skill bonuses with the Faction Gems. All eleven are discounted 50%, down to just 2.50 Jaden. Every esper gives bonuses to at least one skill, and with the Faction Gems, you can both change those skills and make sure they're specific to your faction.
In addition, you can pick up the Ascension Pack for 50% off. With this, you'll get one item perfect for an Ascended player: Honor Gems, Dragonsoul Charms and more.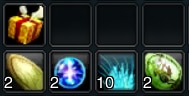 Ascension Pack: Discounted 50%, 0.25 Jaden
Helpful items, 33% discount:
• Telepathy Gem: 0.10 Jaden
• Telepathy Gems x11: 1 Jaden
• Portal Charm: 0.10 Jaden
• Portal Charms x11: 1 Jaden
Puppet Protectors, 50% discount:
• Each: 0.15 Jaden
• Puppet Protectors x11: 1.50 Jaden
Gem Embedding, 50% discount:
• Reforge Stone: 0.75 Jaden
• Socket Lock: 6.25 Jaden
Faction Gems, 50% discount, 2.50 Jaden:
• Fortox Gem
• Celon Gem
• Ardox Gem
• Balas Gem
• Raya Gem
• Mogu Gem
• Vilsy Gem
• Lunara Gem
• Jadis Gem
• Inzen Gem
• Fozun Gem
Buffs, 55% discount:
• Tiger Ice: 0.25 Jaden
• Turtle Ice: 0.50 Jaden