By sominator @ October 24, 2013 at 10:00am

From now until 10AM on November 4, you can purchase a Professions Asset Pack or a Professions Booster Pack from the Zen Market and have a chance to receive Lillend, the first purple quality companion healer!
During this promotional period, if you don't receive a Lillend Companion in your Professions Pack, you will find Tarmalune Trade Bars instead!

*SPECIAL* Companion: Lillend Companion
Lillend is a celestial creature with a fondness for art and music. Her melodies bring aid to her allies and destruction to her foes, and her harmonious magic gives new meaning to "power chords!"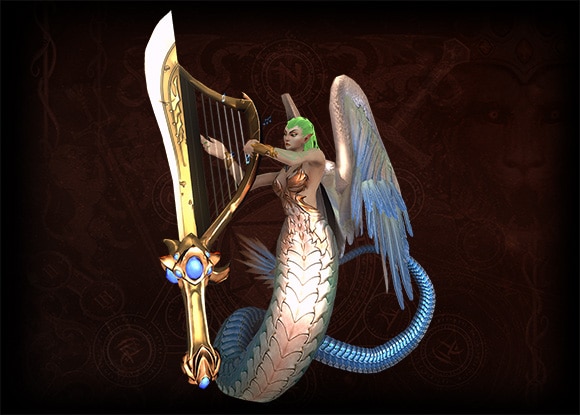 Lillend has initial points in Power, Critical Strike, and Armor Penetration, as well as three Offense Slots for Runestones and three ring slots.
As a purple quality companion, Lillend has a Max Rank of 30, providing you with four different skins from which to pick.
Lillend has three powers:
Rejuvenating Chord
2s cooldown, 50' range
Heals the summoner for 1.8% of Max Hit Points.
Audio Drain
7s cooldown, 30'range
Deals Physical Damage
Deals damage over time to target foe and heals allies near the target for 1.4% of their maximum health with every tick.
Piercing Notes
Foes hit by Audio Drain are weakened and take 20% more damage.
Remember, you can simply press "Y" in-game to bring up the Zen Market and see all of the items for sale!
If you need to purchase Zen for Neverwinter, click here. After your purchase is complete, transfer Zen into Neverwinter on this page. You will then see three boxes: 1, 2, and 3. Select Neverwinter for Box 1, select the server your character is on for Box 2, and amount of Zen for Box 3.
Click here to register for Neverwinter, the free-to-play Dungeons & Dragons MMORPG. The best part about Neverwinter: it's free to play! Become a Knight of the Feywild or Hero of the North today with a Feywild Pack or Neverwinter Pack purchase!
Want more game details, screens, and videos? Like Neverwinter on Facebook for more fan-exclusive content and follow us on Twitter – tweet us your questions! And, subscribe to our YouTube channel for the latest Neverwinter videos.