By sominator @ August 22, 2013 at 12:00pm

New items are available in the Wondrous Bazaar and Tarmalune Trade Bar Merchant!
You can visit Wylandar "Wylie" Ilmarin at the Wondrous Bazaar and the Tarmalune Trade Bar Merchant in Protector's Enclave near Rhix the Daily Quest-giver, or shop at the Wondrous Bazaar by clicking the icon at the top of your screen!
New Wondrous Bazaar items:

*NEW* Mount: Gilded Giant Spider – Rank 2 Mount
Giant spiders are notoriously difficult to tame, and the fear they instill in humanoids frequently dissuades people from training them as mounts. The Gilded Giant Spider mount is no different, and will terrify your enemies as you ride through Sharandar! Increases movement speed by 80%.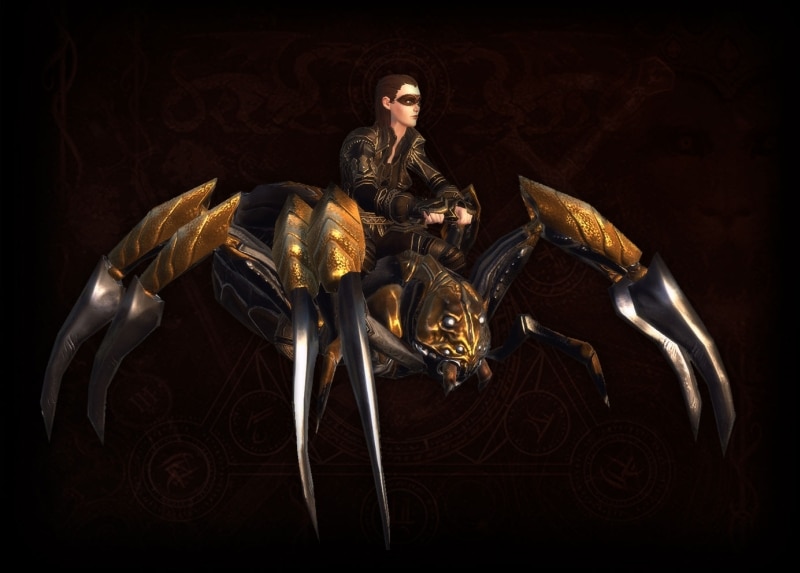 New Tarmalune Trade Bar items:

*NEW* Companion: Phase Spider Companion
Need a creeping companion to help you get the drop on your opponents? The Phase Spider Companion is for you! This predatory spider phases between planes to surprise its targets.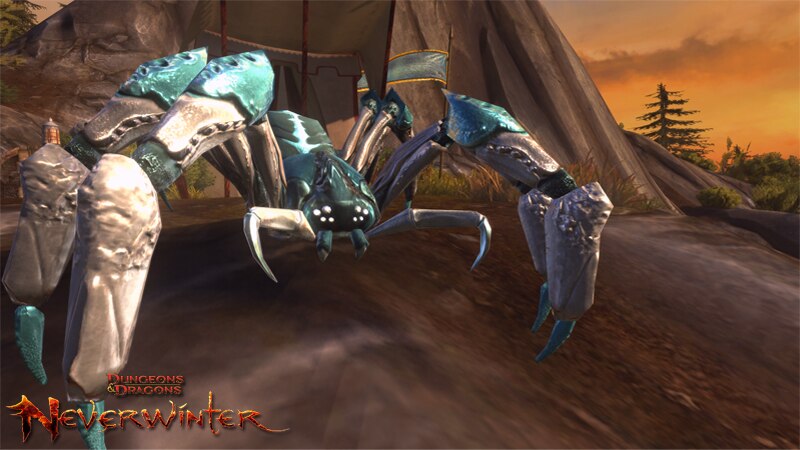 The Phase Spider Companion has initial points in Power, Critical Strike, and Armor Penetration, as well as three Offense Slots for Runestones, one neck slot, one ring slot, and one waist slot.
As a rare quality companion, the Phase Spider has a Max Rank of 25, providing you with three skins from which to pick before ranking up.
The Phase Spider Companion has three powers:
Bite
12' range, 260 degree cone, 3s cooldown
Deals physical damage
Slam down on the target and deal damage with a bite.
Phasing Bite
60' range, 7.5s cooldown
Deals physical damage
Teleport behind an enemy and attack them to deal damage.
Planar Venom
All attacks inflict poison that tears the target's flesh from reality.

*NEW* Weapons: Sinister Weapons
Purchase a new type of powerful weapon for your character! Equip a Sinister Tome (Control Wizard), Sinister Relic (Devoted Cleric), Sinister Polearm (Great Weapon Fighter), Sinister Spear (Guardian Fighter), or Sinister Rapier (Trickster Rogue) to get the edge in battle as you enter the Feywild.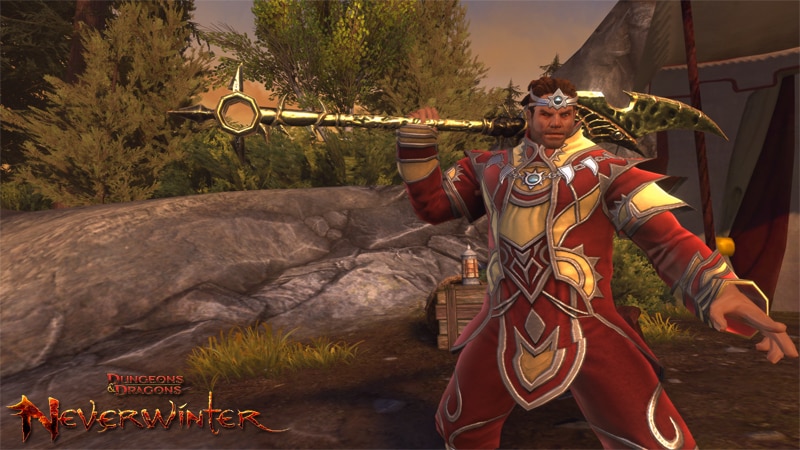 Each of these rare level 60 items comes with an offense slot and weapon enhancement slot for you to further customize your playstyle!
Click here to register for Neverwinter, the free-to-play Dungeons & Dragons MMORPG. The best part about Neverwinter: it's free to play! Become a Knight of the Feywild or Hero of the North today with a Feywild Pack or Neverwinter Pack purchase!
Want more game details, screens, and videos? Like Neverwinter on Facebook for more fan-exclusive content and follow us on Twitter – tweet us your questions! And, subscribe to our YouTube channel for the latest Neverwinter videos.