By sominator @ August 29, 2013 at 9:00am

Looking for the hottest new items in the Neverwinter Zen Market? You've come to the right place!
The Zen Market is the best place to find new items and sales to help you on your adventures, giving you the opportunity to obtain unique and iconic companions, mounts, outfits, account unlocks, and much more.
Remember, you can simply press "Y" in-game to bring up the Zen Market and see all of the items for sale!
This week's item:

*NEW* Companion: Leprechaun Companion

While adventuring in Sharandar, the most observant adventures may have noticed fabled Leprechauns sneaking around the Feywild. These tiny masters of illusion like to play tricks on unsuspecting visitors to their lands. They will usually decide to accompany adventurers out of amusement, or to fulfill some piece of an elaborate prank that they're brewing.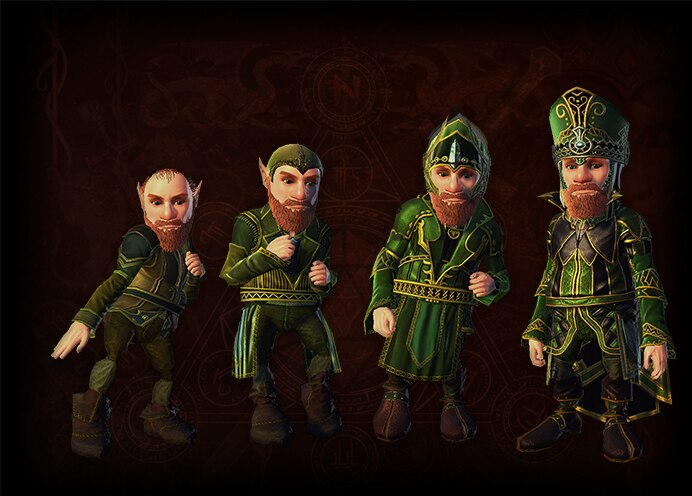 The Leprechaun companion has initial points in Power, Critical Strike, and Armor Penetration, as well as one Offense Slot and two Defense Slots for Runestones, one waist slot, and two ring slots.
As a blue quality companion, the Leprechaun Companion has a Max Rank of 25, providing you with three skins from which to pick before ranking up.
The Leprechaun companion has three powers:
Cut and Run
Melee, single character, 2s cooldown
Deals physical damage
Deal damage to target foe. The Leprechaun disappears if that foe targets him.
Illusory Grasp
20' range, single character, 12s cooldown
Hold
Throw pebbles of illusory grasp at the target, summoning an illusion to choke the target. The stun cannot activate more than once every 30 seconds.
Full of Holes
The Leprechaun's bag is full of holes. Increases your gold gain by 7.5%. It's probably best if you don't tell him.
If you need to purchase Zen for Neverwinter, click here. After your purchase is complete, transfer Zen into Neverwinter on this page. You will then see three boxes: 1, 2, and 3. Select Neverwinter for Box 1, select the server your character is on for Box 2, and amount of Zen for Box 3.
Click here to register for Neverwinter, the free-to-play Dungeons & Dragons MMORPG. The best part about Neverwinter: it's free to play! Become a Knight of the Feywild or Hero of the North today with a Feywild Pack or Neverwinter Pack purchase!
Want more game details, screens, and videos? Like Neverwinter on Facebook for more fan-exclusive content and follow us on Twitter – tweet us your questions! And, subscribe to our YouTube channel for the latest Neverwinter videos.