By Pinpointerror @ April 1, 2013 at 10:11am

Neverwinter was at PAX East in Boston, MA during this past weekend from March 22-24! We showed off a playable demo to fans who couldn't wait to hop on and take on Malus Blackdagger for a chance at epic loot including gold coin pouches, Neverwinter T-shirts (Party Time!), and the coveted Potion Bottles. We also revealed the Great Weapon Fighter to the public for the very first time. Fans could not get enough of the class' damage-dealing abilities!

Potion Bottles were high in demand!

It's Party Time with the Neverwinter Team

But, that's not all we brought to PAX! We also gave out gaming keyboards, headsets, and mice to fans in line courtesy of Logitech. How did they win? No, they did not have to solo a dungeon delve to win the prize. All they had to do was answer Neverwinter trivia, very similar to our Facebook and Twitter Founder's Pack giveaways!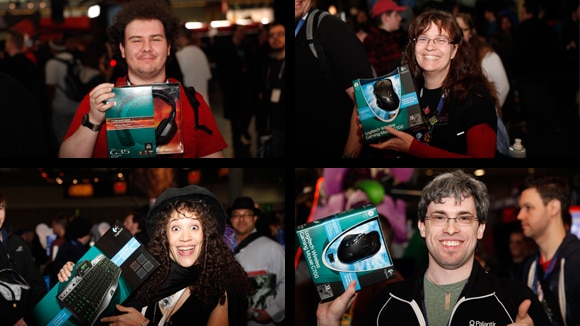 Fans were ecstatic after winning gaming prizes from Logitech

Also at our booth, we were honored to have R.A. Salvatore sign books, including his newest book in the Neverwinter Saga series, for fans who dropped by on Friday and Saturday. Fans lined up around our booth just for a chance to meet the author behind the legendary Drizzt Do'Urden.

R.A. Salvatore met fans at the Neverwinter booth at PAX East

During the show, we were honored to receive the award for Most Anticipated from MMORPG.com!
Finally, fans were treated to an involving and deep discussion on the future of online gaming hosted by MMORPG.com. Cryptic Studio CEO, Jack Emmert, provided his insight and thoughts into the industry, including how Neverwinter will stand out as an action MMORPG.

Cryptic Studios CEO, Jack Emmert, speaking at the Future of Online Games panel
Thank you so much to you, our Neverwinter fans, for dropping by our booth at PAX East. We were honored and excited to meet each and everyone of you. We hope you enjoyed the Great Weapon Fighter and walked away with epic loot! Get ready for the next chapter in Neverwinter as it nears launch. As always, we'll see you in the Forgotten Realms!
Click here to register for Neverwinter, the upcoming free-to-play Dungeons & Dragons MMORPG. The best part about Neverwinter: it's free to play! Prepare by becoming a Hero of the North today with a Founder's Pack purchase!

Want more game details, screens, and videos? Like Neverwinter on Facebook for more fan-exclusive content and follow us on Twitter – tweet us your questions! And, subscribe to our YouTube channel for the latest Neverwinter videos.