By DwightMC @ October 31, 2013 at 8:00am

Looking for the hottest new items in the Neverwinter Zen Market? You've come to the right place!
The Zen Market is the best place to find new items and sales to help you on your adventures, giving you the opportunity to obtain unique and iconic companions, mounts, outfits, account unlocks, and much more.
Remember, you can simply press "Y" in-game to bring up the Zen Market and see all of the items for sale!

*NEW* Companion: Wild Hunt Rider
What would adventures be without a trusty companion at their side? The Wild Hunt Rider is a valiant combatant who will stay at your side through any dangerous situation you might encounter during your adventures. With his powerful spear, the Wild Hunt Rider will leap into action dealing heavy damage while taunting enemies to prevent you from taking damage.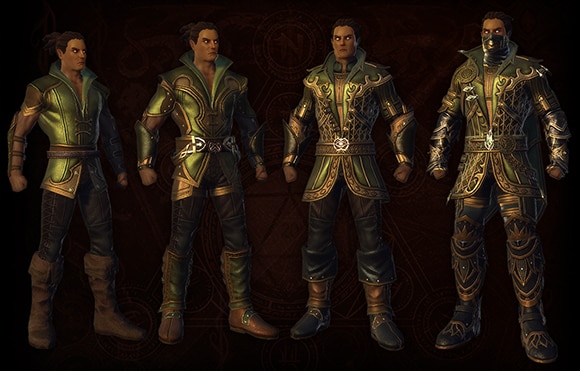 The Wild Hunt Rider has initial power points in Defense and Regeneration, along with two defensive and one offensive slot for Runestones, one neck slot, one waist slot and one sword knot.
As a green quality companion, the Wild Hunt Rider has a Max Rank of 20, providing you with two skins from which to pick before ranking up.
The Wild Hunt Rider has three powers and one active bonus:
Active Bonus
On Encounter use 2% chance to increase damage by 10% for 5 seconds. *applies to you as long as this companion is active*
Leaping Spear
8 Second Cooldown, 30' Range
Deals Physical Damage
A poised leap through the air ending in a devastating thrust that deals damage and taunts target foe.
Puncture
3 Second Cooldown, Melee
Deals Physical Damage
Stabs the spear into the target foe, dealing damage on impact and when ripping the spear out. This attack also taunts the target and increases threat.
Hunter's Tenacity
For each percent of health missing, the Wild Hunter Rider gains 5 defense.
If you need to purchase Zen for Neverwinter, click here. After your purchase is complete, transfer Zen into Neverwinter on this page. You will then see three boxes: 1, 2, and 3. Select Neverwinter for Box 1, select the server your character is on for Box 2, and amount of Zen for Box 3.
Click here to register for Neverwinter, the free-to-play Dungeons & Dragons MMORPG. The best part about Neverwinter: it's free to play! Become a Knight of the Feywild or Hero of the North today with a Feywild Pack or Neverwinter Pack purchase!
Want more game details, screens, and videos? Like Neverwinter on Facebook for more fan-exclusive content and follow us on Twitter – tweet us your questions! And, subscribe to our YouTube channel for the latest Neverwinter videos.